I came across this shop on Etsy and felt it was well deserving of a feature. These have to be some of the most unique and beautiful ear cuffs I have ever seen. So I am featuring this week
Thyme2Dream
.
"I create jewelry for Fae & Elven folk and have recently discovered that mortals like it too...in my shop you will find unusual jewelry items~ ear cuffs, bohemian wraps (ear wraps), arm cuffs, tiaras, circlets, hair vines combs & twirls, rainbows and other fairy accouterments."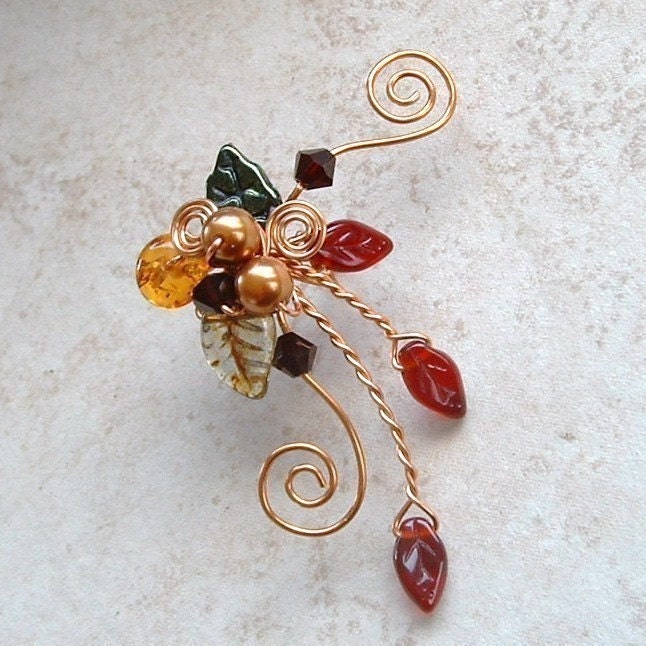 "Fantasy, Medieval and Renaissance wedding jewelry is also a specialty of mine...I would love to work with you to create something unique for YOUR special day!

VISIT MY BLOG FOR MORE INFO ~ http://thyme2dream.blogspot.com/

MY TEAM MEMBERSHIPS:

~~WIRE ARTISANS GUILD ON ETSY
I am honored to be a member of the Wire Artisans Guild. Visit the link below for a complete list of member shops on Etsy, and to see some amazing jewelry art from our members worldwide:

http://www.thewireartisansguild.blogspot.com/

OR search in titles/tags on etsy for: teamwireartisans

~~KC ETSY
A group of talented etsyians from the Kansas City area...if you are local please check out our blog for area trunk shows and more: http://kcetsy.blogspot.com/

To see etsy items for sale from the group search: kcetsyteam

~~FAE: FANTASY ARTISTS OF ETSY
A delightfully talented group of fae and elven folk...if you like my wares, a FAE team search will definitely tickle your fancy...search for: Faeteam

Also, visit our latest artisan exhibition~
http://fantasyartofetsy.webng.com/exhibition.html
~~~~~~~~~~~~~~~~~~~~~~~~~~~~~~~~~~~~~~~~~~~~~~~~~

ABOUT THE STONES
I love rock ~ From the naturally heart shaped piece of Kansas River rock my boys found for me one day on a home school outing, to the lovely cool feeling of blue chalcedony or the magical shimmer of rainbow moonstone~ all stones become my friends when I work with them.

Wrapping and spiraling with wire and gemstones seems to be a natural combination for me…Most of my pieces are not planned, they just sort of happen as I play with the elements of the design.

I am also fascinated by the 'personalities' that different cultures and traditions have given gemstones through the ages, and often combine them with specific meanings in mind as a blessing to the person who will eventually wear them. Above all, I try to put a lot of love and joy into everything I create!